Product Description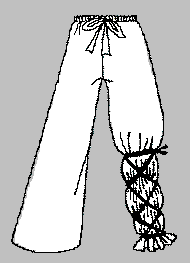 Loose fitting, full length pants, perfect for tucking into boots or gatored off.  They are easy to wear with a simple drawstring waistband. Perfect for peasant and lower middle class attire or simply "knocking about the house" on the weekend.
Finished with 34″ inseam with a narrow hem. Please specify waist size.
Made in 100% 7.1 oz. "heavy weight" linen.