Having run my into the proverbial writer's block known as having your characters sit down for supper and get stuck there for a year and a half, I decided what better way to get the mojo working again.  as I mentioned in my pattern review post, I had run myself out of original Renn Faire character story arc and the proverbial wall. So I decided, "Hey why not make yourself a costume and go to some local faire and be your female protagonist again and see where she takes go."
So about a month ago I tweeted out the picture below saying, I'm thinking about making this to wear to the Nottingham Festival, which they favorited and replied they'd liked to see it.  My source is taken from the Album Amicorum of a German Soldier that is housed at LACMA.  It was part of their online collection a few years back, but is currently unavailable.  In looking at my graphics, I found similar gown in "gray" that might fit the bill, too.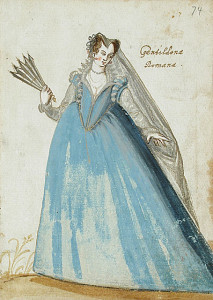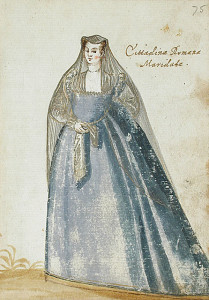 I have less than a month to build something from the ground up. And by the ground up, I mean the gown, some type of head covering since I have barely shoulder-length  hair, partlet, and a farthingale or petticoat, though I leaning towards just lining the gown with some heavy-weight linen and see where it take me.  The only things I don't need are a smock and a corset.