Product Description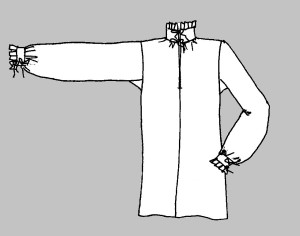 Our men's shirt is based upon extant garments as seen in Janet Arnold's Patterns of Fashion, vol. 4 and the meticulous work of The Tudor Tailor.  It is a loose fitting shirt with a stand collar and long sleeves finished into cuffs, with hand box-pleated ruffs at neck and wrists.  It is finished with hand-twisted 100% pearl cotton tie closures at the collar and cuffs.  This shirt is approximately 33-35 inches long from the center-back.

The shirt is suitable for 16th century Gentry and Noble class gentlemen.
It is fashioned in "bleached" 5.3 oz weight 100% Linen.  This fabric has a smooth look and tighter weave, and is neither sheer or heavy, but just the right in-between weight.   The color is best described as a soft white.