Obligatory disclaimer: The majority of the comments shared here been sent to the company whose box is being reviewed. I am not receiving any type of compensation for my review. This rant is entirely my own doing, mostly because I refuse to do unboxing videos on YouTube, and I hate having pictures of myself taken unless I'm wearing a period costume.
I confess, I watch Dia & Co. unboxing video (since I've started down this path of dressing up again), I want to see what other ladies are getting and having a sense bout when the boxes are going to ship because they tell you when to expect your next box, I start visiting my page and peak to see if it's been shipped. Well, back in the later part of November, I peeked and discovered that my next box was up on the site under "Rate my Items." Wanting to know what was coming, I did some web-searching and striking out I made a note of what the items were and posted the list on the Dia & Co. discussion group on Facebook and asked, "Anyone else have these arrive in their box?"
Based on the descriptions, I wasn't feeling this box with the exception of the skinny jeans as my current boot cut jeans are 4 or 5 years old and suffering from elastic failure. Or it could be because I've lost 40 pounds!!
Now to recap the items in my November box, which I kept three.  There were six items in this box and a holiday special were you only needed to purchase five of teh six items to get the "full box" 20% discount.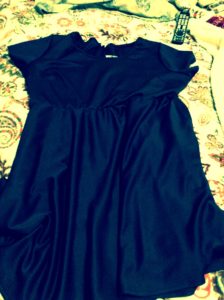 1. A Dress: Esmeralda Skater Dress, $60.00, Society+, Navy – This is Society+ generic skater dress. If nothing else, this dress gave me the opportunity to try on a 4X and compare it to the 5X red dress that I just bought for Christmas. The dress is made in a medium weight polyester interlock, it fits well and since it's a solid navy I can wear it with any of my sweaters or my silver gray blazer.
I kept it because navy is one of my Fall/Winter capsule neutrals. What I found surprising is that this dress in a 4X fits me the same way that the 5X red dress that I got earlier that month. Go figure.
Added bonus with this dress: it has pockets!! If this company had been around when I was still working in an office I would have had one of these in every color.  I needed pockets to carry my keys.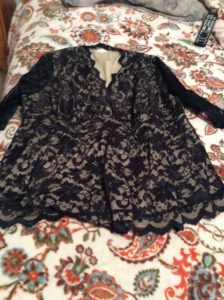 2. A Top: Kaori Lace Top, $79.00, Kiyonna, Black – This is listed on the website as the Linden Lace Top as it's $88. It's a heavyweight polyester lace that was lined with a nude-colored heavy polyester tricot that matched my skin tone too closely.  The top was very pretty but, well … way too racy for wearing to church. It's hard to keep your mind on the Lord and the university level teaching on theology in the sermon when you're too busy wondering if the lady sitting a few seats is wearing anything under the lace blouse she has on. It's not a legalistic fundamentalist thing by any means whatsoever, but simply an act by me showing respect to God in His house by not being a distraction.
The top fit me well, but the husband would never let me out of the house wearing it. I asked if I could exchange it for the one with the black lining that I knew was available on the Kiyonna website, but alas, Dia was unable to do it, so back the top went.
I purchased the black on black top from Kiyonna via FullBeauty.com and it was much better. The care tag said "Dry Clean Only" which knowing better having worked with fabric for the majority of my life, I washed it in cold water and the top became a much softer and less scratchy piece of clothing. I recently wore the top around the house because we were going out on a date night. As the day progressed, the more in my face the girls became, and the more modest I became. I think I was wearing the wrong bra or it was an impending migraine, but I really don't remember that much décolletage when I tried it on.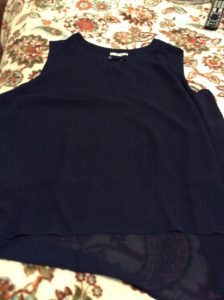 3. Top #2: Gianna Sleeveless Top, $69.00, Modamix, Navy, 28W – This blouse is double layer polyester georgette. the neckline is notched and has a narrow band that fastens with two antique brass colored snaps.  This really is navy but the iPaw photographed it as black. We both liked it so it's a keeper.
This top was on the Lord &Taylor website as "Keyhole blouse" and on sale for $27.60.   I did try to price match, but the rules are it has to be exactly the same thing: meaning size and color. Bummer because screen capture of the top I submitted was red and I think it wasn't my size.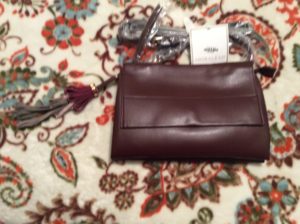 4. A purse: Morgan Ave Crossbody bag, Shiraleah $49.00, Wine, OS – The bag was divided into two separate compartments and both sides were too small for more than my cell phone, keys, and wallet. The color was okay, but there was this strange alien-looking jellyfish tassel on it that both made us to the confused dog head tilt thing. It went back
5. Pants: Lora Skinny Jeans, $59.90, Swak, Black, 5X – this is listed on the SWAK website as the Sammy jeans. I kept them because of weight loss and impending elastic failure. They are super stretchy so added bonus, they're like shapewear. I also like the fact that the legs are long on me. I'm not opposed of the baggy at the ankle look and even better, because they are long I don't get the gap between the bottom of my pants and top of my ankle socks.  No pictures because I think most people know what a pair of black jeans look like.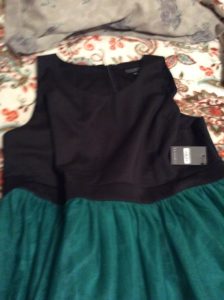 6. Dress #2 Abigail Sleeveless Dress, $89.00, Eloquii, Green, 28 – This is the sleeveless black bodice with deep emerald green tulle skirt. My iPad took a much better picture of this dress and so now you can see the details in the bodice and just how lovely this shade of green is. Now if they could me a faux suede or velvet leggings or skirt in the green, I'd be a very happy camper.
It went back only for two fold reasons. The first I really don't have any place to wear this type of party dress. I work from home and the dress was really too girly for a middle-age woman to wear to church, or even date night with the hubby. Now, if I were 20 or even early 30-something, you bet I would have kept this dress and worn it everywhere. The second problem with the dress is that the armholes were very deep and suffered from gap-osis. (The curse of being a DDD girl.) There simply wasn't enough fabric to work with to make any adjustments to the armholes and sizing down most likely would not have zipped around my waist.
If you're feeling brave and want to try a Dia box of your own and would like to show me some thanks for this any or of my other ramblings and rants, please use my link, it will benefit the both of us: https://www.dia.co/r/4zxx
Save